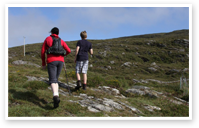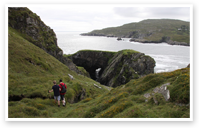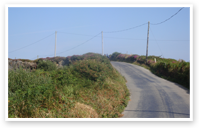 WALKING ON BERE ISLAND (Continued)
The Ardnakinna Loop
Walking around the Ardnakinna Loop [3-4 hours] there are fantastic views across to Berehaven and Dunboy Castle.
At Ardnakinna Lighthouse the route turns inland but rises so that the walker can enjoy spectacular views of Bantry Bay and the Sheep's Head Peninsula. The walk connecting the Ardnakinna and West End loops traverses the central ridge of the island with breathtaking 360- degree views of Hungry Hill, Berehaven and Bantry Bay.
The Ardnakinna Loop then follows public roads with some short off-road sections and passes close to The Bere Island Heritage Centre, where the visitor can take in the unique history of the island.
The East End (Rerrin) Loop
The East End Loop [1.5 – 2 hours] passes through Rerrin Village and also has great views of Hungry Hill. This loop covers an area steeped in military history, where the remains of  many of the gun defences and fortifications can still be seen.
Lonehart Battery surrounded by an impressive moat and still sporting two six inch guns is at the head of this loop. From here there are spectacular views from Sheeps Head to the South West, Bantry to the east and the Beara peninsula, dominated by Hungry Hill, to the north.