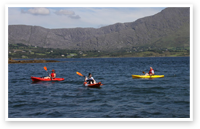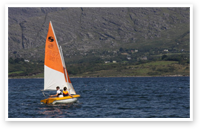 ON THE SEA
Swimming
Bere Island has two beautiful beaches that are suitable for swimming so be sure to bring your swimming togs along with your buckets and spades for relaxing days out at the beach.
Kayaking
Why not while away a few hours enjoying the peace and tranquility of Bantry Bay in your kayaks. There is easy access to the water from our homes and plenty of outside space to store your kayaks.
Dinghy Sailing
Or for those who enjoy dinghy sailing, the sheltered harbour provides ample opportunity to get the wind in your sails. There is easy access to the water from the nearby slipway and strands nearby. The Admirals House on Bere Island was a base for Glenans Sailing Club for several years.
Angling
Why not bring your fishing rod and head off a relaxing days fishing. Its really hard to beat the taste of freshly fried mackerel straight out of the sea.
Sea Safari
If you want to to explore the spectacular coastline of Beara from the sea in dramatic fashion check out www.sea-safari.com
Read more on the sea here here